Cities can play a valuable role in accelerating climate action and supporting a country's National Determined Contributions (NDCs). However, many of the climate finance mechanisms are targeted at national governments. In an effort to bring climate finance opportunities to sub-national entities and cities, the US-ASEAN Smart Cities Partnership (USASCP) established the Smart Cities Business Innovation Fund.
The Smart Cities Business Innovation Fund requested proposals offering sustainable net-zero/low carbon solutions to address documented urban challenges. The proposals could have been technological, nature-based, financial, organizational, or have addressed a documented urban challenge in another form. The program offered $1,000,000 worth of available awards and each award could range from $30,000- $300,000. The Smart Cities Business Innovation Fund received 72 on-time proposals totaling $14,000,000 worth of demand. Proposals were received from countries across the ASEAN region including proposals from Cambodia, Indonesia, Laos, Malaysia, Myanmar, the Philippines, Vietnam, and Thailand. Projects proposals ranged from depression detection technology to waste management ideas to solar panel recycling. 6 winning proposals were selected from Cambodia, Laos, Indonesia, Malaysia, the Philippines, and Vietnam.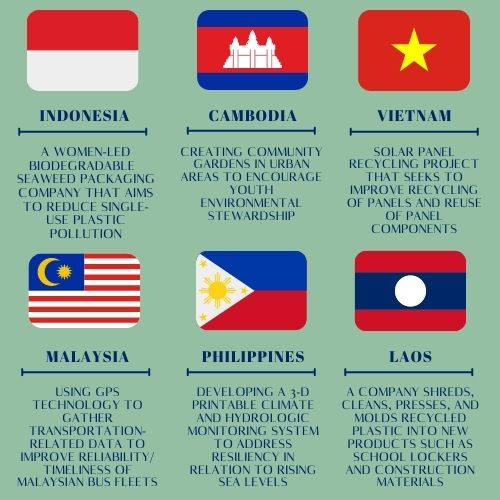 Full details on the original request for proposals can be found here.