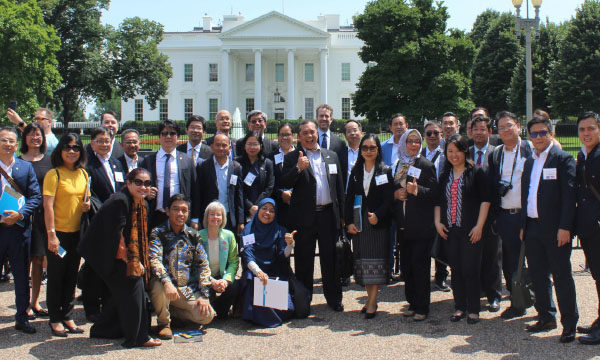 To inaugurate the U.S.-ASEAN Smart Cities Partnership (USASCP), 30 officials from each of cities in the ASEAN Smart City Network (ASCN) visited the United States to participate in a series of smart city related events. Participants learned about global best practices, met with U.S. government and private sector experts, and visited U.S. cities that have successfully implemented smart city solutions. Data gathered during the July program are being used to build out future USASCP programming.

This kick-off series of events is an example of how the USASCP will help ASEAN and the U.S. jointly address the challenges of rapid urbanization across a range of smart city topics and sectors, including connectivity, best practices, transportation, water, and delivery of city services, taking into account the ASEAN Smart Cities Framework and drawing upon individual Smart City Action Plans (SCAPs) to inform specific programming and activities.
The first event was a special Symposium, co-hosted by the U.S. Department of Commerce  and U.S. Department of State, for ASCN officials to meet industry groups and visit smart city deployments in the Washington DC area. 
The symposium provided a general overview of smart cities concepts and shared U.S. best practices and perspectives. The delegation met with industry groups and visited smart city deployments in the DC area.
Expert speakers addressed target application areas identified by many of the 26 ASCN cities.
The second event was the Global City Teams Challenge Smart and Secure Cities and Communities Challenge Expo (GCTC/SC3 Expo), which brings together more than 160 cities and communities around the world to learn from each other's experiences and from smart city innovators.
The SC3 Expo was co-hosted by U.S. National Institute of Standards and Technology (NIST) and U.S. Department of Homeland Security Science and Technology Directorate (DHS S&T).
GCTC is collaborative platform for local governments, nonprofit organizations, academic institutions, technologists, and corporations from all over the world to form project teams to work on groundbreaking applications and solve real-world challenges with smart city/IoT technologies, with an emphasis on cybersecurity, privacy, replicability, scalability, and sustainability.
The third event was a study tour organized under the U.S. Department of State's International Visitor Leadership Program (ILVP). In an IVLP on Demand, participants traveled to other U.S. cities to learn firsthand about the experiences of their counterparts – their successes and challenges in implementing SMART strategies and technologies.
The International Visitor Leadership Program (IVLP) is the U.S. Department of State's premier professional exchange program.
New York City, which half of the delegates visited, is known for its public wifi, transportation innovations, and water quality.
Seattle, which the other half visited, is home to tech giants like Microsoft and Amazon and is known for digital government, green electrical utilities, and community engagement and collaborations with universities.
For further information please reach out to Jefferson Science Fellow Dr. Elisabeth Smela.